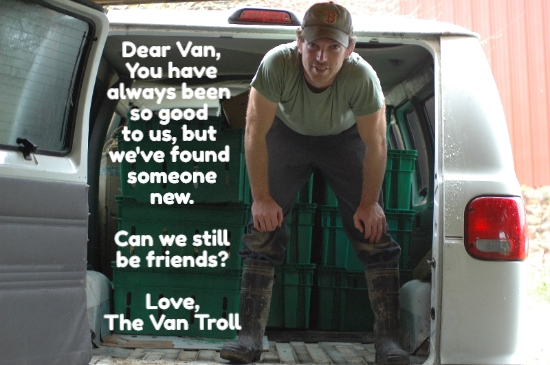 It's the end of an era on Root Mass Farm. After nearly 4 seasons with the faithful Dodge Ram '98 van (pictured above), we've decided to replace it with a shiny, new Ram Promaster. Our new vehicle will be more functional in every possible way, with three seats in the front for a future helper, almost twice as much cargo capacity, a 6'4″ interior (no more stooping van trolls!), and a maneuverability suitable for all the city driving we like to do.
Our old van, with its riveted aluminum panels to cover the holes in the floor, its immobile sideview mirrors and their lichen tears, and its back-crunching height, will still have an important role on the farm. It will continue to shuttle produce from the fields to the washing station, make supply runs to Weaver's Hardware, and haul chicken feed from Vernon's.
But we're ready for something we can grow into–a vehicle that can accommodate all the goodies we hope to harvest and one that matches our commitment to this crazy farming enterprise. We want to invest in something that will last us decades because we hope to be doing this for decades to come. This decision has been a long time coming, and we're excited to share it with you. Plus, when we go see the Eagles at the Link on Dec. 7th, our new Promaster will host one hell of a tailgate party.