We get that question a lot during garlic scape season, and with good reason.  Upon first glance, the garlic scape is definitely an enigma.  Its name contains a familiar word–garlic–and there are parts of the food that vaguely resemble garlic.  But it's also kind of wacky looking.  When Landon was working at the Union Sq. Market in NYC, Darryl Hannah did a feature on the market for the Today Show (or something).  She described the scapes as "Dr. Seuss-ian".  I always liked that.
Despite it's confusing appearance, the garlic scape is a pretty versatile item.  Landon and I put together a list to hand out at our markets to give our customers a little more clarity.  Even though scape season is coming to a close, you can keep this on hand for next year.  As long as folks are growing hard-neck garlic, there will always be the question:  "How do you use that?"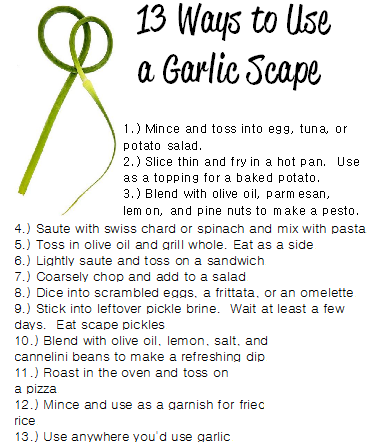 After I put this list together, I discovered a new (and possibly best) use for a garlic scape.  I'm my parents' daughter for sure.