Landon and I love selling at Headhouse Market.  It's well-organized, the customers are terrific, and the vendors are super supportive.  Well, that's why we love it as business owners.
As people who love food, we love it for the shopping.  Landon and I make sure to snag some groceries toward the end of each market, and this past week yielded a fantastic haul:  mushrooms, blue cheese, asparagus, turnips, bacon, coffee, and tat soi.  Four of those ingredients, plus our own green garlic, made it into last night's dinner.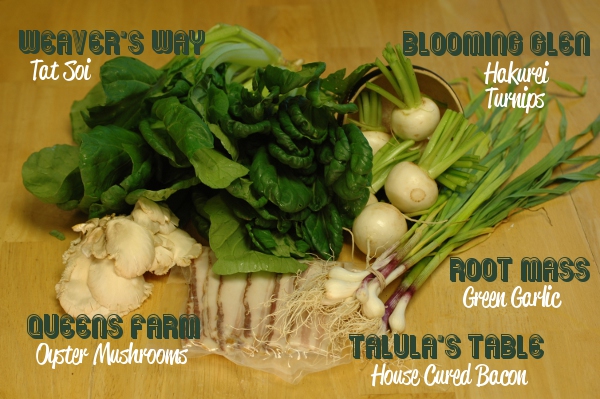 We cooked up the bacon and removed it from the pan.  We then seared the mushrooms in the bacon fat, threw in the tat soi, turnips, green garlic and steamed turnip greens, and let the whole thing cook for 5-7 minutes.  During the cooking, we seasoned the vegetables with some white pepper, soy sauce, and cooking wine.  We returned the bacon to the pan, added some peanuts, and cooked for another few minutes.  The whole thing got tossed over a pile of brown rice.   It looked like this–messy, but hearty: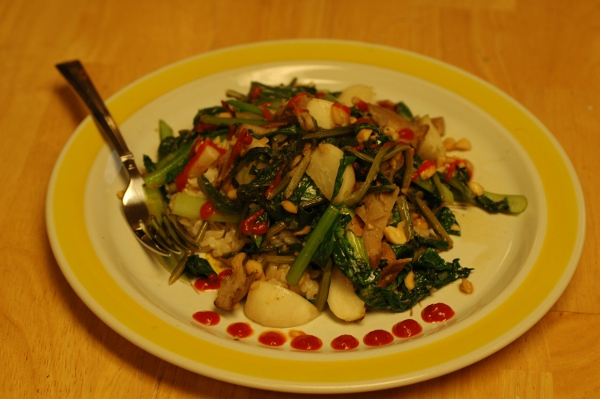 The whole thing cost us a little more than $12 and yielded about 3 servings.  Tonight's dinner: Birchrun blue cheese with Culton Organics asparagus.  Is it 7:00pm yet?